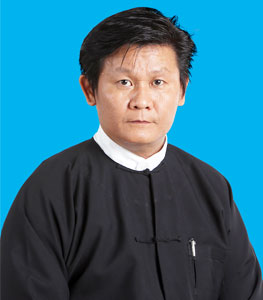 Non-Executive Director
Present Directorships in listed Companies
- Myanmar Thilawa SEZ Holdings Public Co., Ltd.
- Myanmar Citizens Bank Ltd
Date of appointment  -  8.7.2013
Last re-elected  -  24.6.2020
Interest in the Company 
- Directly: 523,850
- Indirectly: 1,921,010
U Tun Lwin is a Director of the Company. He has been the Chairman of MAGDPL since 2012, which is one of the biggest shareholders of our Company. MAGDPL is a public company, and is currently developing container and general cargo handling International Terminal at plot number 29 of the Thilawa Port Area, among other business operations. He is the director of MAPCO. And, he is also the director of Myanmar Citizens Bank Limited. He is serving as the vice-chairman of National Resources Development Company Limited too.
He is presently the Managing Director of Shwe Me Group of Companies. Shwe Me Group of Companies has been listed as 3rd to 23rd highest taxpayer in the country for the Income Tax and Commercial Tax Categories from Financial year 2010-2011 to 2016-2017. And, on 2014, it has been awarded the prestigious "President's Excellence Award for Tax and Revenue Duty". He is the Chairman of SCG - Shwe Me Logistics (Myanmar) Co., Ltd.
He is currently serving as the Chairman of Myanmar Pulses, Beans and Sesame Seeds Merchants Association, the Central Executive Committee Member of UMFCCI and the Treasurer of Myanmar-Japan Association. The companies he is associating are currently exporting agricultural products, importing construction materials and general cargo, providing logistics services, developing terminal at Thilawa port area, growing teak plantations and involving in other business sectors too. He attended the Audit Committee Master Programme in April 2018 jointly sponsored by International Finance Corporation and Myanmar Institute of Directors.