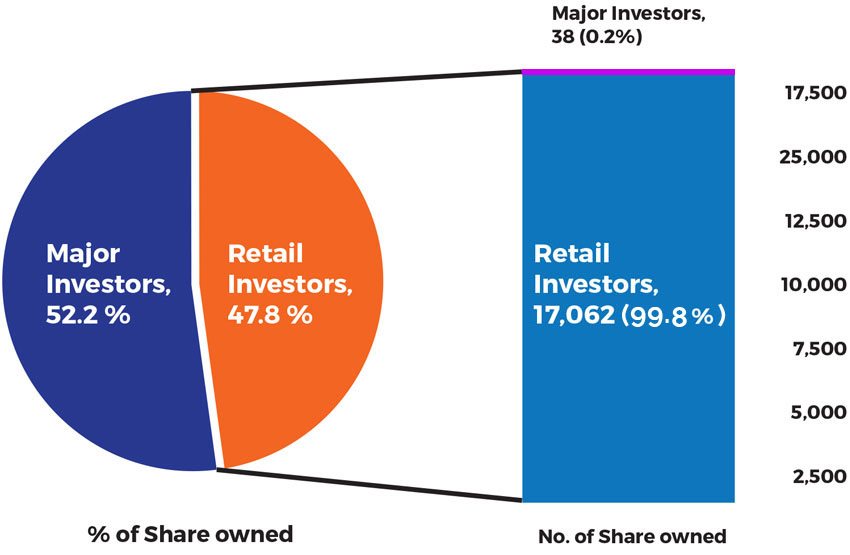 We enjoy a very stable shareholders' base:
More than 17,000 shareholders trust MTSH, and our Company is accountable to them: we are providing them with clear, accurate and timely reporting.
35 shareholders are holding at least 100,00 shares each. Together, they own 52% of our Company. This contributes to the stability of our shareholders' base.
35% of our shareholders are institutional and are long-term investors.
Each year, during our AGM, shareholders make the decisions to shape our Company's future.
Our top 20 shareholders
As of 17th August 2018, our top 20 major beneficial shareholders are holding 45.03% of the shares.
| | | | |
| --- | --- | --- | --- |
| # | Name | Number of shares | % |
| 1 | Myanmar Agribusiness Public Corporation Limited** | 1,948,640 | 5.01 |
| 2 | Myanmar Agricultural & General Development  Public Limited | 1,900,000 | 4.88 |
| 3 | New City Development Public Company Limited | 1,900,000 | 4.88 |
| 4 | Myanmar Technologies And Investment Corporation  Limited | 1,829,000 | 4.70 |
| 5 | Myanmar Edible Oil Industrial Public Corporation Limited | 1,797,000 | 4.62 |
| 6 | Golden Land East Asia Development Limited | 1,771,546 | 4.55 |
| 7 | National Development Company Group Limited | 1,678,950 | 4.31 |
| 8 | First Myanmar Investment Company Limited | 643,503 | 1.65 |
| 9 | U Naing Moe | 537,98 | 1.38 |
| 10 | U Tun Lwin | 523,85 | 1.35 |
| 11 | U Thurane Aung | 493,54 | 1.27 |
| 12 | Asia Mega Link Company Limited | 414,806 | 1.07 |
| 13 | Daw Ei Hnin Pwint | 412,04 | 1.06 |
| 14 | U Kyaw Zaw Thant | 277,22 | 0.71 |
| 15 | Daw Moe Mya Mya | 257,5 | 0.66 |
| 16 | U Win Aung | 256,34 | 0.66 |
| 17 | Daw Ei Hnin Khine | 236,83 | 0.61 |
| 18 | Asia Mega Link Services Company Limited | 222,008 | 0.57 |
| 19 | U Zaw Min Thike | 217,2 | 0.56 |
| 20 | U Sit Lwin | 205,2 | 0.53 |