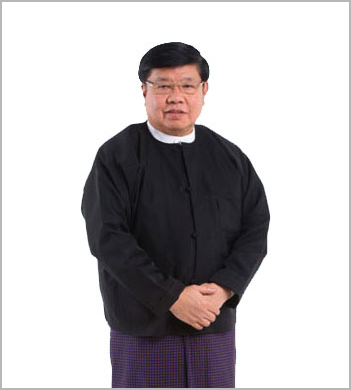 As one of the major steps to boost country's economy by our Government, Myanmar Company Law (2017) was approved by our President on 6th December 2017.
All shareholders may aware that, New Myanmar Company Law 2017 was enacted from 1st August 2018 with the notification letter 48/2018 of President's Office on 22nd June 2018, which allows 35% share participation by the foreigner without effecting the rights and status of Myanmar companies, thus Myanmar companies can maintain the citizens' benefits in addition to legal partnership with foreign counterparts. In this aspect, The Security & Exchange Commission of Myanmar (SECM) is also preparing rules and regulations for foreigners to buy shares at Yangon Stock Exchange (YSX). Similarly, in the near future, our shareholders can hope for their profitability due to foreign investors' interests in our company which established the first successful SEZ.
In view of Shareholders' benefits, by utilizing the opportunities to expand our business to be in line with new Myanmar Company Law, we have established the new constitution and sent to our shareholders ahead in order to get approval at this Annual General Meeting. Both in Myanmar Company Law and our new company constitution, company board of directors' duty and responsibilities are stated clearly, thus it will lead to better corporate governance. Depending on our BOD's capabilities and capacities, we can boost not our own but also to country's economy.
In the long run, there are potentials to enhance country's economic development with the enacted new laws and effort from private sector. Therefore, it is important that how we will utilize these good potentials.
2017-2018 Financial Year was a challenging year not only for other businesses but also for MTSH businesses. Myanmar economic development has been slower than expected although poise as one of fastest growing economy in the World. Businesses are still facing challenges. Although, investments are not as much as previous year, there are still investments at our Thilawa SEZ.  I do believe that Thilawa SEZ and Myanmar economy boast the competitiveness and the potential necessary to grow in the future.
Group net profit for this financial year 2017-2018 was Kyat 12.92 Billion compared to Kyat 22.317 Billion in FY 2016-2017. Although our group net profit was down, our Subsidiary company Thilawa Property Development Limited (TPD) delivered record revenue in 2017-2018, with growth rate of 17.46 % to Kyat 9.934 Billion, from Kyats 8.457 billion in FY 2016-2017. This growth in revenue is contributed by successful invitation of Super Hotel, a Japanese hotel chain to open in Thilawa SEZ Residential and Commercial Zone developed by our TPD. There is also a growth in construction income by TPD from kyats 4.086 Billion in FY 2016-2018 to Kyats 5.695 billion this year. We commence to lease workers dormitories which will contribute towards sustainable income for TPD stating from this year.
MTSH's main source of profit, through our joint venture Myanmar Japan Thilawa Development Limited (MJTD) declines this year. Net profit contribution from MJTD this year is Kyat 9.082 Billion compared to Kyat 16.744 Billion in 2016-2017. We have managed to attract 12 investors with the investment of USD$ 140 Million from 6 countries into Thilawa SEZ this year, thereby increasing the total investors in Thilawa SEZ to be 94 companies with USD$ 1190 Million from 17 countries. With this success, we have sold out 97% of Zone A and 61% of Zone B Phase 1. We have started to construct Zone B Phase 2 and started development planning for Zone B Phase 3 in anticipation for the future rapid growth in demand by Foreign Direct Investment.
MTSH was ranked position "28" among top income tax payer lists published for 2016-17 Assessment Year.
We embarked on a process of strategic review for the Group. We aimed to review our strategies and business models against the realities of the future market place and global trends, changing and enhancing them where required. We will also reshape our organization to put in place the right structure and capabilities for MTSH's future.
We will focus on capital allocation at potentially beneficial businesses from our very healthy cash reserve of Kyat 21.55 billion after deduction of our proposed dividend of 8.95 billion. These investments will be the seed for our company future. We will look for strategic quality investments by defining our priorities and investment criteria to better diversify risk.
Currently we are following very closely for investment in Kyaut Phyu SEZ and Deepsea Port Project together with CCTI Consortium from China. These may be the type of investment which we can replicate our successful experiences developing Thilawa SEZ. Similarly, we are also studying and doing survey and dialogues for the investment at Myitkyina Economic Development Zone in Kachin State. Moreover, we are also carrying out feasibility study for Multi Modal Logistic Hub in Thilawa SEZ. We believe that such kind of Multi Modal Logistic Hub is necessary infrastructure to complement and strengthen the strategic location of Thilawa SEZ as well as address the Myanmar Country's need for competitive and efficient logistic operations throughout the Country.
We will appoint a permanent CEO to drive and execute the clear roadmap layout by our Board of Directors to enhance the value of our company and build a better, brighter future for MTSH. We will also appoint highly efficient and capable employees whenever necessary.
Our BOD seeks to continuously create value for our shareholders and to issue stable dividend payments over the long term. This policy has led to our decision to maintain the high level of 230 kyats per share for dividend payments over the period of FY 2017-2018. Since the establishment of the MTSH Company from 3rd May 2013, we have been paying out dividends to our shareholders since 2nd year after establishment and up till now, we have already paid back total dividend up to 94% of paid up capital of the original shareholders within 5 years; 20% in 20142015, 25% in 2015-2016, 26% in 2016-2017 and 23% proposed for this year, 2017-2018.
Our continuous effort to improve our Corporate Governance and transparency is evident in the report published by the Myanmar Centre for Responsible Business (MCRB) pursuant to the Pwint Thit Sa 2018 report. Pwint Thit Sa report on Transparency in Myanmar Enterprises (TiME) have ranked MTSH 9th among top 182 companies in Myanmar which is an improvement of 9 positions from Rank 18 in 2017. We are further working on improvements in our Company's Corporate Governance and I hope this will be further evident in next year's ranking.
MTSH Co.,Ltd., owned by our shareholders has written a new constitution with the input of professionals and Board of Directors to be in line with the newly enacted Myanmar Company Law (2017) which is important for our country's economic development. This new constitution was distributed to you, together with invitation letter to AGM which has to be approved by the shareholders in this AGM. In this connection, I would like to emphasize and assure that, with this approved new constitution and with our utmost effort, we will perform the potential businesses without limitation by the directors and officers under the precise rules and regulations with responsibility and accountability, thereby developing the promising and prospective new businesses to put MTSH on the growth track and to mark a mile stone of success. I would like to thank all the shareholders, employees, management, Board of Directors and Partners for continuous understanding, collaboration and support of our efforts.
In conclusion, I would like to take this opportunity to express our heartfelt gratitude and sincere thanks to Vice President of Republic of Union of Myanmar and Myanmar Special  Economic Zone Central Body Chairman, H.E U Henry Van Thio, Union Minister for Commerce and Myanmar Special Economic Zone Central Working Body Chairman,  H.E U Than Myint,  Union Minister for Ministry Office of The Union Government and Myanmar Investment Commission Chairman H.E U Thaung Tun, Chief Minister of Yangon Regional Government H.E U Phyo Min Thein, Deputy Union Minister for Planning & Finance and Thilawa SEZ Management Committee Chairman, H.E U Set Aung and committee members, Deputy Union Minister for Planning & Finance H.E U Maung Maung Win,  Myanmar Investment Commission Secretary and Director General of Directorate of Investment & Company Administration, U Aung Naing Oo,  Chairman and Members of Securities and Exchange Commission of Myanmar, Officials from One Stop Service Centre for their continuous advices, supports and assistances render to our MTSH Co., Ltd.