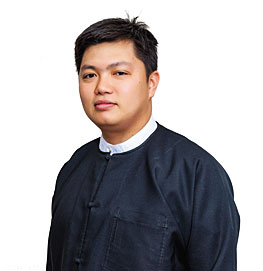 Sunday, February 28, 2021
Executive Director
Present Directorships in listed Companies -
- Myanmar Thilawa SEZ Holdings Public Co., Ltd.
Date of appointment  -  1.9.2019
Last re-elected  - Not applicable
Interest in the Company
- Directly: 493,540
- Indirectly: 143,150
U Thurane Aung is the Project Director of our Company and Vice President of Myanmar Japan Thilawa Development Limited (MJTD). His diversify experiences came from more than 17 years of service in Dagon Group, which is one of the leading conglomerates in Myanmar with diversified businesses in sectors that include property development and construction, hospitality, timber, agriculture, commodity trading, plantation, retail and distribution, petroleum, automobile and food processing.
During his position as CEO of Dagon Group, he successfully negotiated and implemented many new joint ventures and new businesses with multinational corporations. Drawing from these experiences U Thurane Aung carried out the feasibility study and negotiated for the joint venture between MTSH and Japanese Consortium to form MJTD from the beginning of MTSH. His experience in property development in Dagon Group equip him with greater understanding of project management and project implementation which was put to use by MTSH when our subsidiary Thilawa Property Development Limited was formed.
His primary responsibility in MTSH is to coordinate among the stakeholders for the smooth running of existing business as well as develop new opportunities and investment within Thilawa SEZ and beyond.
He also contribute much of his time for the development of the different business sectors he is in by joining the Executive Committee Member of Myanmar Construction Entrepreneur Association (MCEA), Vice-President of Yangon Region Young Entrepreneur Association (YRYEA). He holds a Bachelor of Arts (Honors) in Business Information Management & Finance, which he obtained from the University of Westminster, United Kingdom in 2004.